Reunion 2015 - St. Louis, Missouri - April 26-30, 2015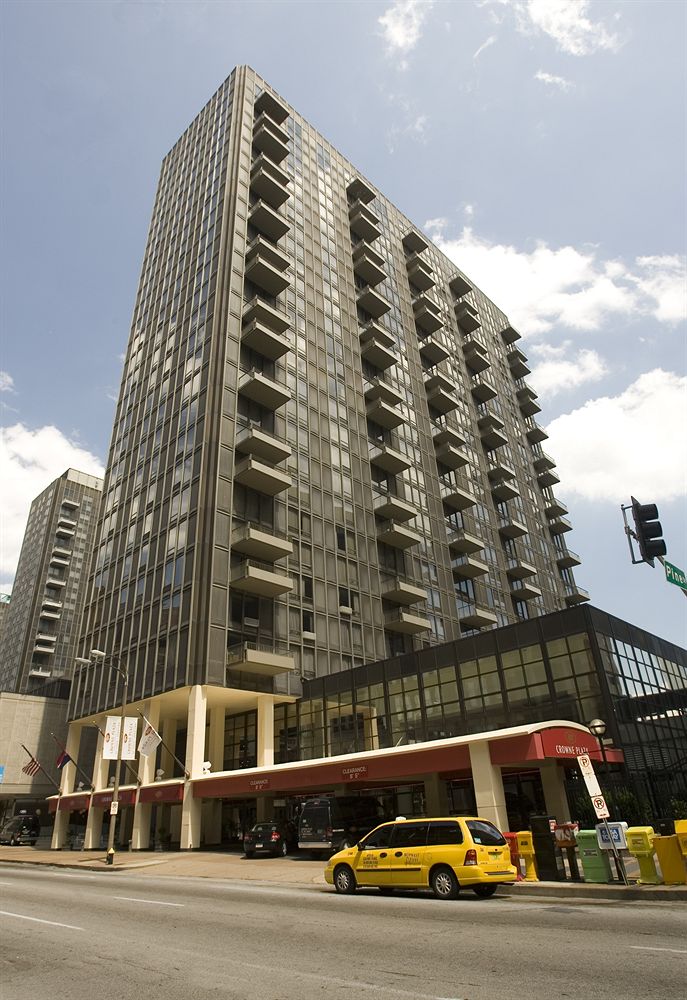 The 2015 Reunion was held at the Crown Plaza Downtown in St. Louis, Missouri from April 26th to April 30th, 2015.

Reunion Highlights
Ron Ludolph, with the help of his wife Dorothy, organized another successful event. The Reunion was held at the Crown Plaza Downtown Hotel where the shipmates and guests gathered often in the Hospitality Room to reminisce and share stories from their years on board.
There were many pictures and photo albums from shipmates to view as well as albums of past reunions. The Ship's Store had many items for sale and also the availability to order. Tours included Forest Park, Cathedral Basilica, The Hill, Tower Grove Park, Compton Heights and Lafayette Square on the first day.
On the second day the tour took us to Grant's Farm Bauernhof where we saw the famous Budweiser Clydesdales, Historic South Side, and the Gateway Arch. Ron ordered great weather for us which made the tours even more enjoyable.
An auction was held during the business meeting as well as election of officers. Also during the meeting it was decided (by vote) to have the next Reunion in Pensacola Florida. The dates for that have been set – October 9-13, 2016. More information will be forthcoming on that so save the dates and plan to attend!
After pictures were taken a delicious banquet and more socializing was enjoyed by all.
Shipmates Attending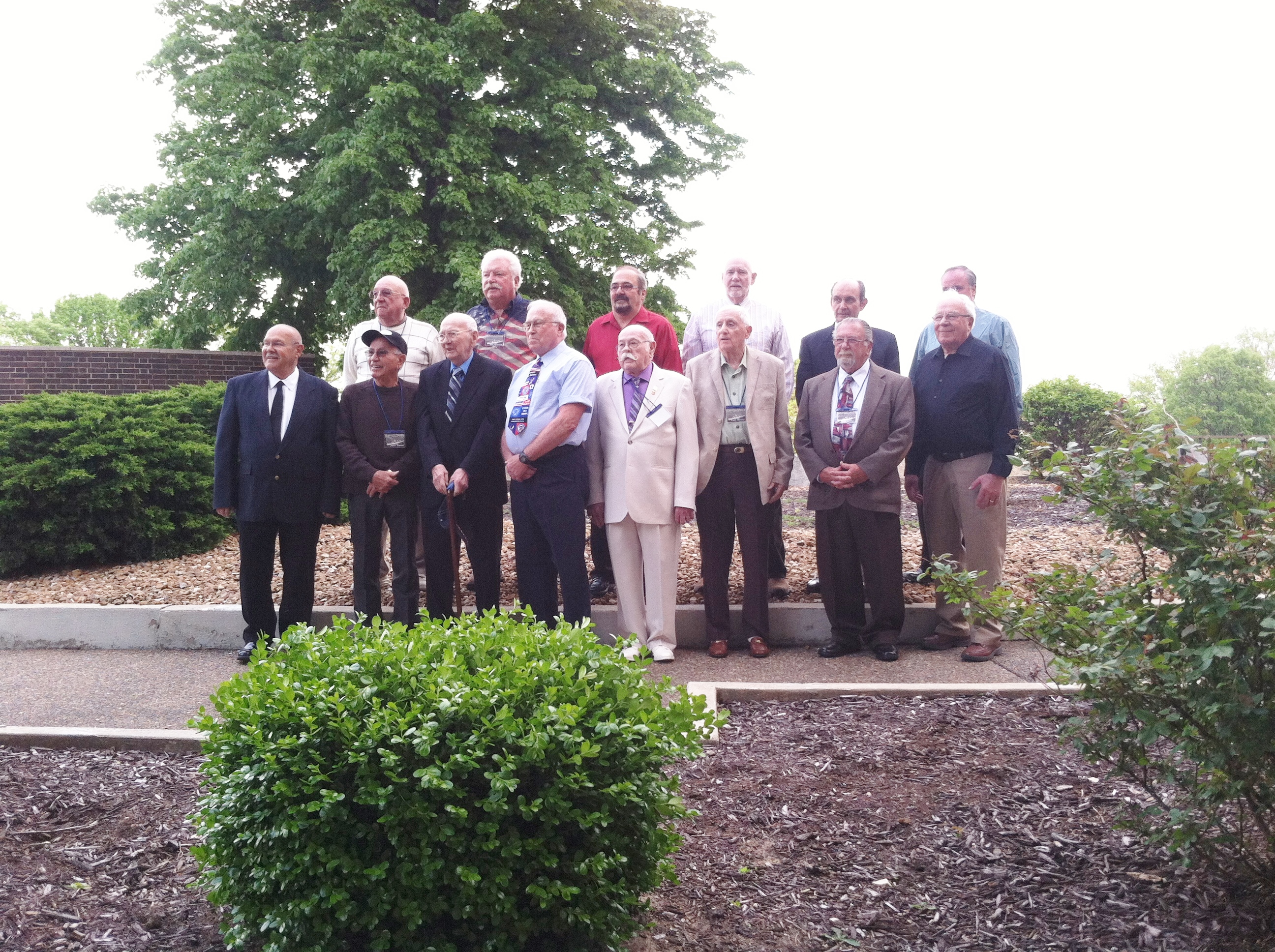 Click Image to View Larger
Front: John Carpenter, John Davis, Jim Johnson, Don Johnson, Jack Trimmer, Loy Buley, Harry Johnson, Ken Boyer
Back: Ron Ludolph, Walt Neumann, Leno Ravetto, Don Gappa, Bill Laing, Steve Heeter (Jack Trimmer's son-in-law).
Ladies Attending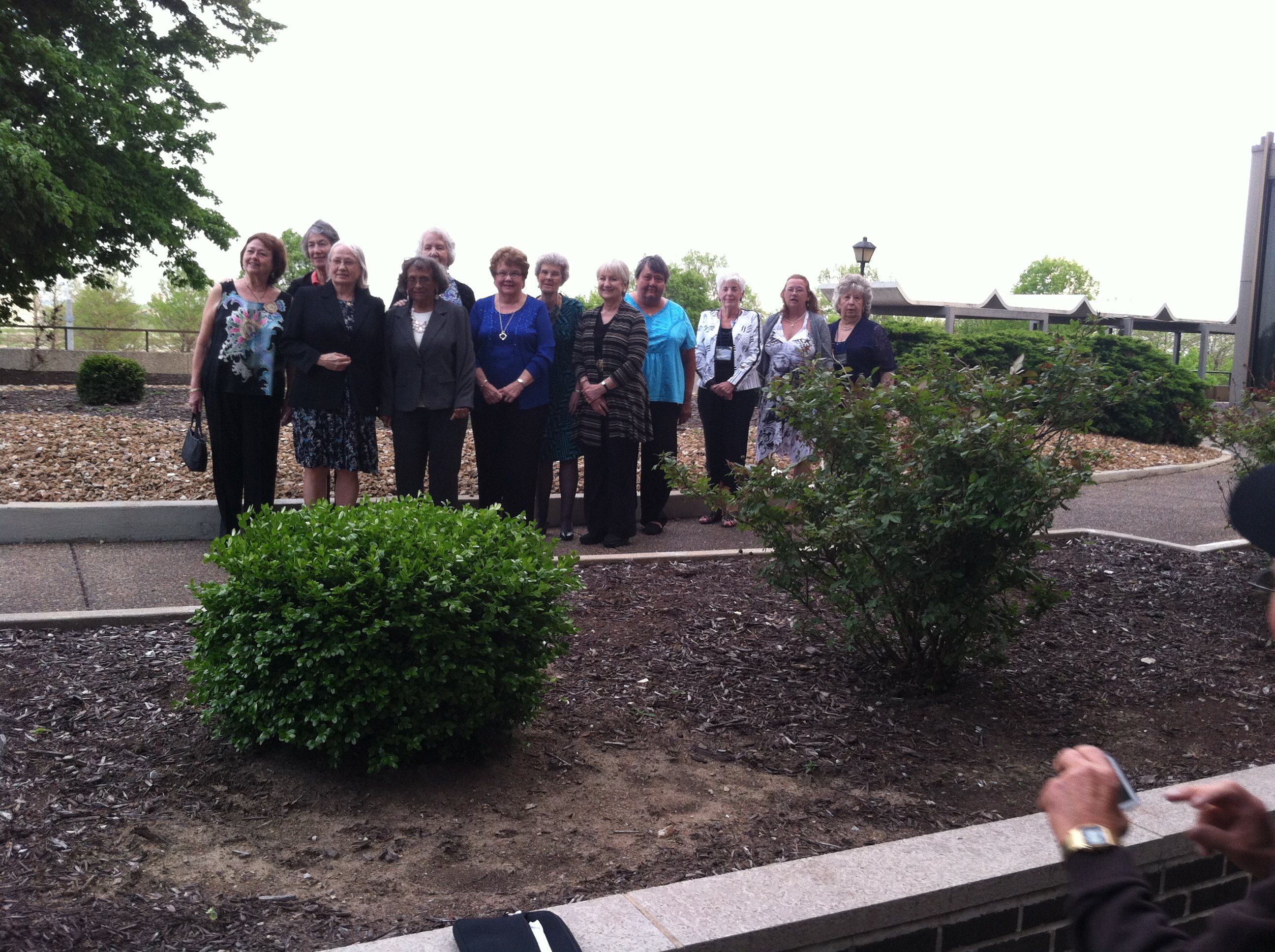 Click Image to View Larger
Pictured from left:
Kathy Buley, Sue Neumann, Marian Johnson, Roberta Davis, Sylvia Gappa, Gloria Boyer, Joyce Collier, Bobbi Laing, Marge Carpenter, Dorothy Ludolph, Terri Heeter, Edna Trimmer.
Business Meeting
The meeting was called to order at 4:00 p.m. by President Walt Neumann. He asked the new members/attendees to stand and be introduced. They were: John (& wife Marge) Carpenter, John (& wife Ramona) Davis, and Edna Trimmer (wife of Jack Trimmer). The Pledge of Allegiance was said followed by John Davis giving the invocation.
Walt introduced the present officers and thanked them for their work to keep the organization running. He gave a special thank you to Ron & Dorothy Ludolph for setting up the Reunion. The Two Bell ceremony was held to remember the shipmates/members who have been deceased since the last Reunion . As Walt read each name, Ron rang the bell two times. There were eight names read: Ernest (Bill) Grugel, Donald Linn, William (Bill) Bletso, Gale Rambo, James (Jim) Husong, William (Bill) Pooser, Ted Arestad and Bernard Gechas.
Minutes of Portland 2013 meeting presented. Treasurer's report was given by Bill Laing, Treasurer and approved. The balance in the treasury is approximately $5,000 after all Reunion bills are paid.
There was a discussion of re-making/adding to the Gregory membership book.
Ken Boyer made a motion to donate $200 to the Tin Can Sailors Save the Ships Foundation. This was approved. An anonymous donor gave $25. Bill Laing made out a check for $225. Ken will send it to Tin Can Sailors.
Nominations for 2015-2016 officers. Ron Ludolph resigned as Vice President due to health issues. Loy Buley accepted the position and Ron indicted that he would help him set up the next Reunion. The other officers all accepted their positions for another term: Walt Neumann, President; Bill Laing, Treasurer; Ken Boyer, Secretary. Ed Richardson will continue managing the Ships Store and Jay Olexy (not present) will continue to be webmaster. Suggestions for the location of the next Reunion were Pensacola Florida, Norfolk Virginia, Bar Harbor Maine and St. Augustine Florida. By secret ballot, Pensacola Florida was chosen. The Reunion will be in the Fall of 2016.
An auction was held for two items: a Navy book donated by Joyce Collier was sold to Jim Johnson for $40.00. A denim Gregory shirt which was donated was sold to Loy Buley for $26.00. Assorted donations of items from Tin Can Sailors and others were to be given out at the banquet that evening. Walt announced that everyone was to meet for pictures at 6:30 previous to the banquet.
Meeting adjourned at 5:00 p.m.
Ken Boyer, Secretary
(gb)